Welcome
Welcome to Grace Lutheran! Thanks for visiting our website.
If you don't have a church home in this area know that you are welcome to worship with us. We have a page telling you what to expect as a visitor here.
We are a church that believes in the grace of God given as a gift to everyone - and ALL are welcome. We seek to live the truth of this welcome.
We are not perfect, but we are forgiven! As we experience forgiveness from God, we offer it to others also.
Worship Services
Regular Worship Service Time Is 10:30 am year round.
Holy Communion Worship Service is the First & Third Sundays of each month and at all Festival Sundays. Everybody is welcome to partake in communion.
Contemporary Worship service is held on the Fourth Sunday of each month and features music from our Worship Band.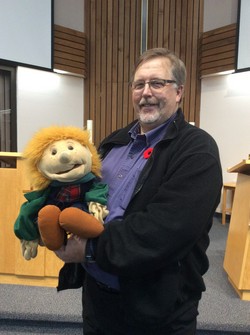 Pastor Fred and Zach would like to invite you to join our service on Sunday mornings.
Grace Lutheran Church Worship Services and Gatherings Cancelled
Our national bishop and the synod bishops yesterday came out with a letter in regards to the CoVid 19 virus.
"With the information we have today, we feel it is both prudent and responsible that our congregations suspend all public worship services and other gatherings effective immediately."
For the foreseeable future, we are cancelling worship services and gatherings.  We will keep you posted over what our response will be during this pandemic. Feel free to contact Pastor Fred and the church office about concerns and needs.
To receive updates on the situation and to view videos online please follow our Facebook page which is located at
https://www.facebook.com/Grace-Lutheran-Church-Wetaskiwin
To download the bulletin to follow along click this link
The previous week's worship service audio is available at the link below and we are working on a way to deliver a service online as a temporary measure.
Funerals & Memorial Services
It is with great sadness the family announces the passing of Reginald Feldberg at the age of 90. He is survived by his wife of 69 years, Elsie; children, Brian (Cynthia), Colleen (Kevin); grandchildren, Peter (Ashley), Sabine (Harley), Jesse (Alicia), Megan (Brett); great-grandchildren, Everett, Ellis, Ruari, Kohlin, Maliyah, Olivia; sister, Irene Torgerson; as well as numerous other extended family and friends.
Reginald was predeceased by his parents, Ruth and Arthur Feldberg. A Memorial Service took place at 2:00 pm on Monday, March 16, 2020 at Grace Lutheran Church, Wetaskiwin. In memory of Reginald, donations may be made to the Wetaskiwin Palliative Care Unit. The family wishes to thank Wetaskiwin Long Term Care, Points West Living, The Meadows Care Facility, and all the Doctors and Staff at Family Clinic for the professional and compassionate care throughout the years.